Mac users must use the Safari browser to access CM/ECF. Mac/Safari users must log into CM/ECF using this URL: https://ecf.ca2.uscourts.gov/cmecf/servlet/TransportRoom?servlet=Login?client=mac
Both the hardware and the operating system (OS X) must be 64 bit. A Macintosh computer made in about the last 18 months is 64-bit capable. In summary, a user needs:


64-bit capable Macintosh
OS X 10.5 (or higher)
NOTE: Users that have an Intel-based Mac that is not 64-bit capable may be able to use one of the parallel operating system products, such as Fusion or Parallels, that allow a Mac to mimic the Windows operating system. Fusion and Parallels only run on Intel-based Mac systems.
Known differences for Mac users
Automatic login as a PACER user when an attorney logs in as a filing user is not supported on the Mac.
If the inside server software is restarted while people are working, any Mac user logged in will not be able to run docket report and other browser-based parts of the system without logging in to CM/ECF again.
The default Mac browser must be used to log in to CM/ECF. If a secondary browser is used, it will not "know" that the user has logged in when running browser-based portions of the system. To change the default browser, go to Safari > Preferences > General, as shown in Figure 1. Use the Default web browser to indicate the default web browser.
Safari preferences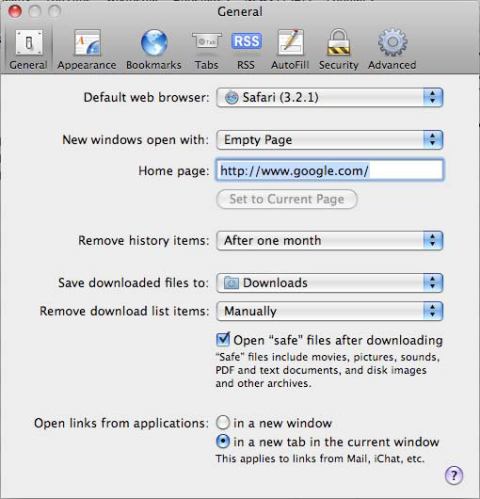 To maintain the same security for the CM/ECF application for all users, the URL utilized behind the scenes for downloading the program to the Mac is different each time. The startup process likely will take longer as it will not be cached as it is on a PC.
For more information about launching CM/ECF using a Mac, and adding right-click and Java functionality, click here.
Click on a link below to view other technical requirements or return to the Hardware and software requirements page.
Last modified at 11/9/2009