CM/ECF will not accept filing of a single PDF document that exceeds 10 MB in file size. An entire appendix will often exceed that size; therefore, it must be divided into smaller PDF documents unless there is no reasonable way to accomplish such division. (Note: The Court will accept a filing that contains no more than 10 attachments, each not exceeding 10 MB in file size, per document. If there are more than 10 attachments or any one of the 10 attachments exceeds 10 MB in file size, the filer must submit the entire appendix as one PDF on CD or DVD. See Local Rule 25.1 (j)(3).)
To determine the size of a PDF, open the document and click on File > Properties.
Open the Description tab at the top left of the dialog box that opens. The file size in MBs appears on the third line from the bottom of the dialog box. In the example below the 662-page joint appendix is nearly 30 MB (27.23 MB). It will have to be split into at least three separate, smaller PDFs for filing purposes.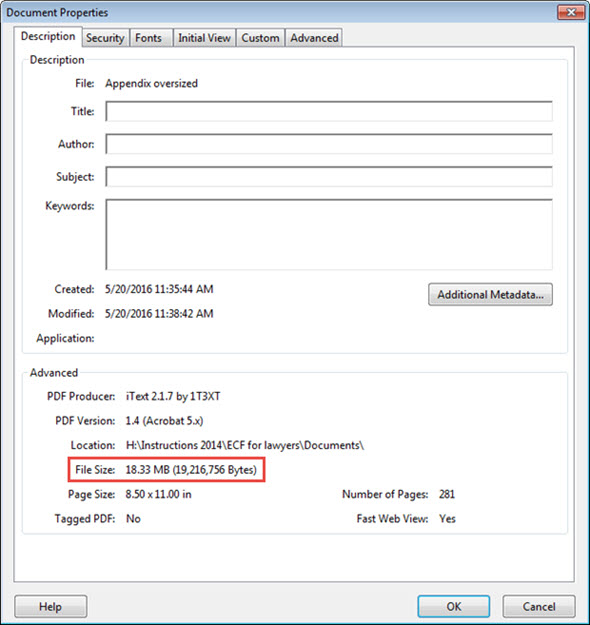 To use Adobe Acrobat Professional or Standard to split the oversized PDF into several parts, all smaller than 10 MB, follow the directions below. A filer using another software package to create PDFs must consult the software vendor for instructions on splitting documents.
1. Open the oversized PDF and click on Document in the menu bar at the very top of the document. Scroll down and click Split Document...
2. In the dialog box that opens, select Split document by File size, and enter 10 in the Max MB: box. Then either click (1) Output Options to rename the separate files and save them in a different folder, or (2) click OK to use the automatic file-naming function.
Note: Use Output Options only to save the separate files in a folder different than that containing the original document or to assign specific names to the separate files. If Output Options is not selected, the default folder and file names, as described below, are used.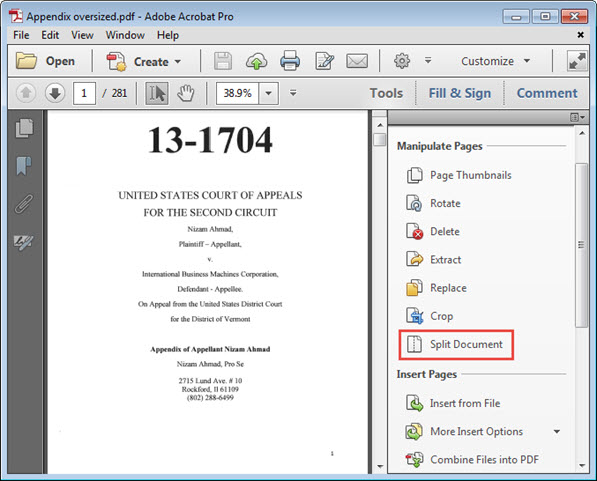 2a. The Output Options dialog box, shown below, allows a filer to choose a target folder and add a label to the file name(s). A filer can decide whether to add the label and part number before or after the original name and type the selected label in the Use label: box.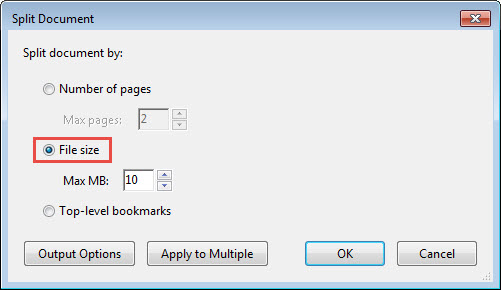 The split parts of the document are saved in the folder with the labels entered.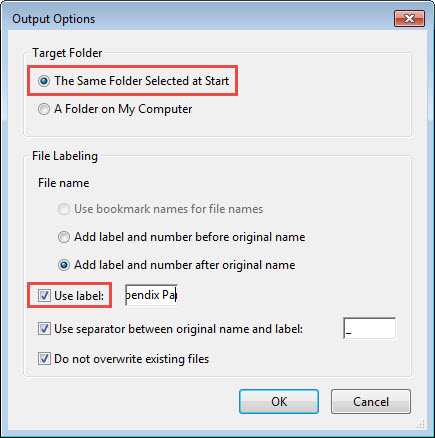 2b. If the Output Options are not used, the split parts of the document automatically are saved in the same folder as the original, and the label "Part#" is added at the end of the original file name.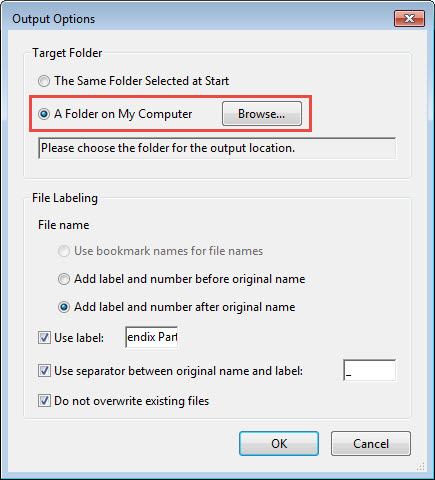 3. Each separate part of the split document must be paginated according to these instructions.
Last modified at 8/30/2010