These general instructions, as well as the specific instructions for paginating a brief and paginating an appendix, apply to any Filing User utilizing Adobe Acrobat Standard or Professional XI to create searchable PDFs for appendixes. For those using software other than Adobe Acrobat to create PDFs, refer to the software vendor's instructions.
Any person viewing a PDF filed in CM/ECF must be able to enter a page number in the page search field on the tool bar or "Go To Page" field under "View" and have that number match the page number displayed in the filer's PDF.
In the example below, the reader wishes to look at page 3 of the main body of a brief and has entered "5" into the page search field. However, the page that appears is one from the Table of Authorities section, designated by the filer in Roman numerals as page iv.
When converting the document to PDF, the filer did not change the default setting to recognize Roman numerals. The default setting in a PDF upon initial conversion is to count all the pages in the document and begin reading pagination with Arabic number 1 on the first page. Consequently, in the example below the table of authorities appears on page 5 even though the filer designated Roman numeral iv as the appropriate number at the bottom of the page.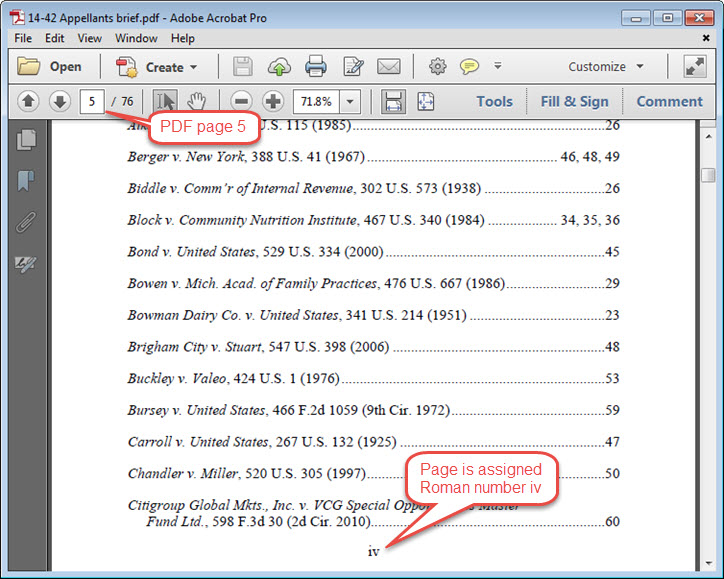 To correct this pagination problem, a filer has two options. First, the filer can use the thumbnail function in Adobe Acrobat tools to number the prefatory pages (e.g., table of contents and table of authorities in a brief) differently than the main body pages. I.e., the prefatory pages can be assigned Roman numerals. A brief or appendix cover can even be assigned no page number if the filer has chosen not to designate a number for the cover. A PDF appendix separated into sections or volumes because of file-size limitations can be numbered so that continuous pagination in the later volumes is properly displayed.
The less preferable but acceptable method for numbering pages in the main document prior to its conversion to PDF is to start with the cover page as Arabic number 1 and then sequentially number all succeeding pages with Arabic numbers. The default pagination upon conversion to PDF will then match automatically.
More information about pagination:
Last modified at 5/23/2016