1. Open a web browser window and navigate to the Second Circuit's CM/ECF home page at the following URL: https://ecf.ca2.uscourts.gov/. (For future use, bookmark this URL to navigate quickly to the site).
Second Circuit CM/ECF home page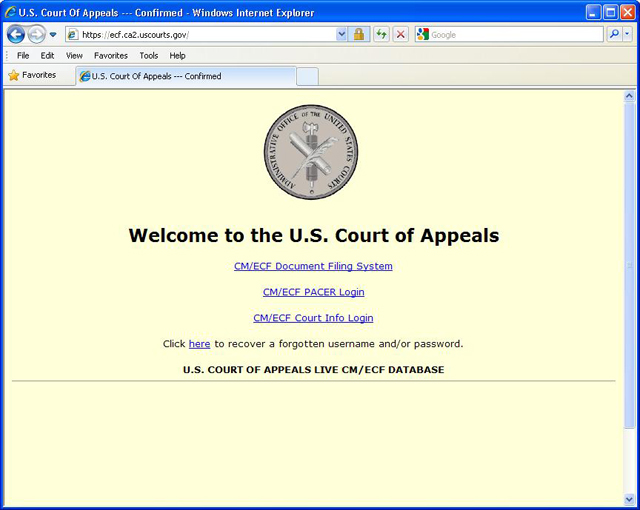 2. Click on CM/ECF Document Filing System to access the login screen.
Second Circuit login screen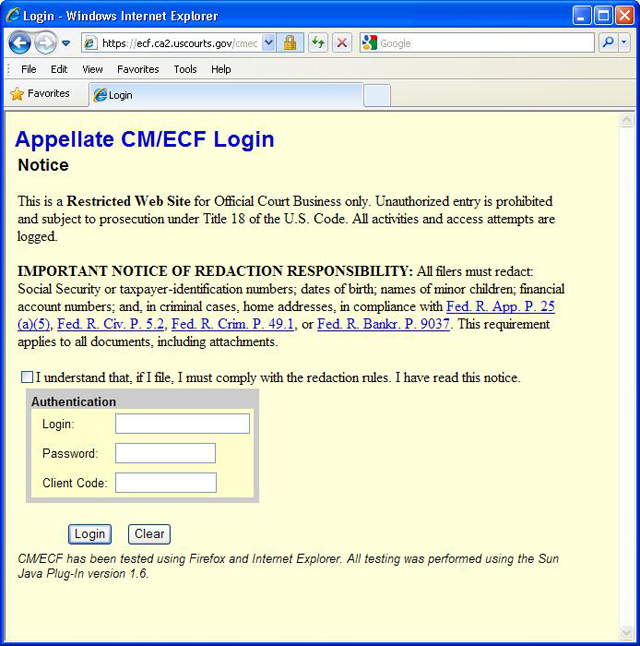 3. Read the notes on the login screen.
4. Verify reading the redaction requirements by clicking in the checkbox above the box titled "Authentication." A checkmark should appear.
CAUTION: A user cannot log in to CM/ECF without checking this box.
5. In the Login field, type the appropriate appellate filer Appellate ECF login name, and in the Password field type the corresponding password. To obtain an appellate filer login and password, see the instructions here.
CAUTION: The Login and Password fields are case-sensitive.
6. (Optional) In the Client Code field enter a code to identify the person using the account. This information is only referenced by PACER.
7. Click the Login button.
8. If a Security Information dialog box opens, click the Yes button. The following happens:
a. A browser window, titled CM/ECF Appellate, opens in the background, and the top of the page reads U.S. Court of Appeals CM/ECF. The large CM/ECF button initially appears with an orange Java logo. Wait until that logo disappears and the button contains the text CM/ECF as shown in Figure 3.
CAUTION: Do not close this window at any time.
Appellate CM/ECF screen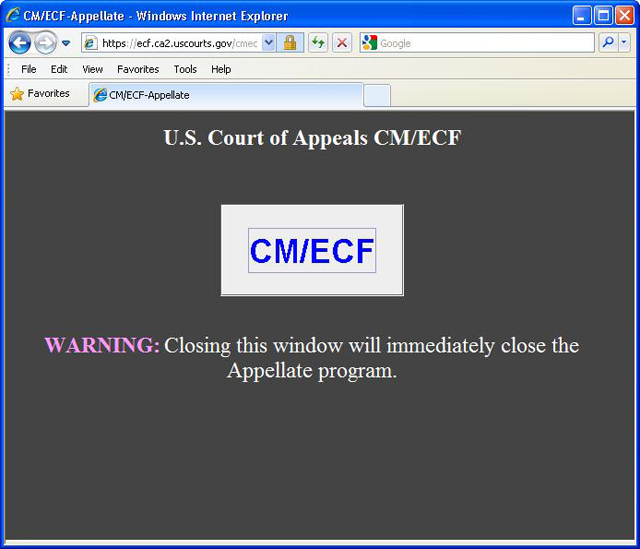 b. The Startup Page window then opens in the foreground. The user's last login date and time are shown near the middle of the page.
CAUTION: Do not close the Startup Page window at any time. If the window closes by accident, find the background window, shown above, and click the large CM/ECF button.
Second Circuit startup page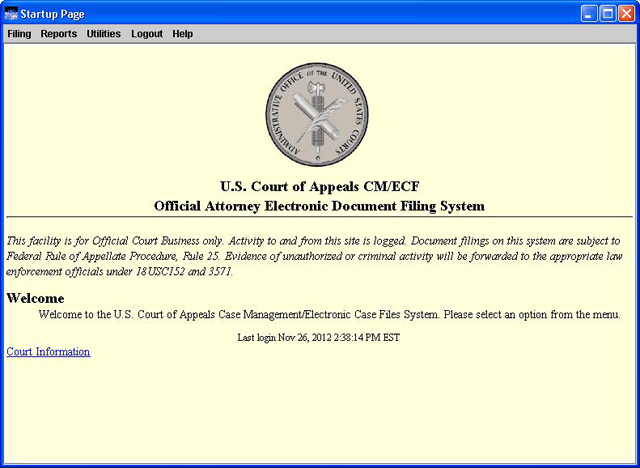 Last modified at 12/3/2012