1. Prepare the letter to cancel tolling. Save the letter as a searchable PDF on the computer's hard drive or network drive.
2. Log in to CM/ECF. On the startup page select Filing > File a Document.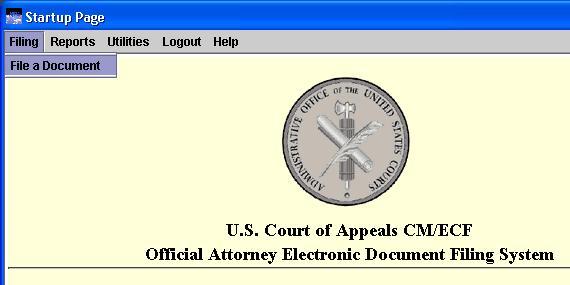 3. On the File a Document screen, enter the case number in the Case field and hit the Tab key on the keyboard. The case number and name appear in the Case Selection box toward the bottom of the screen.
4. On the left side of the screen, select Correspondence/Forms/Letters. On the right side of the screen, select Immigration 90-Day Tolling Cancellation Letter, FILED.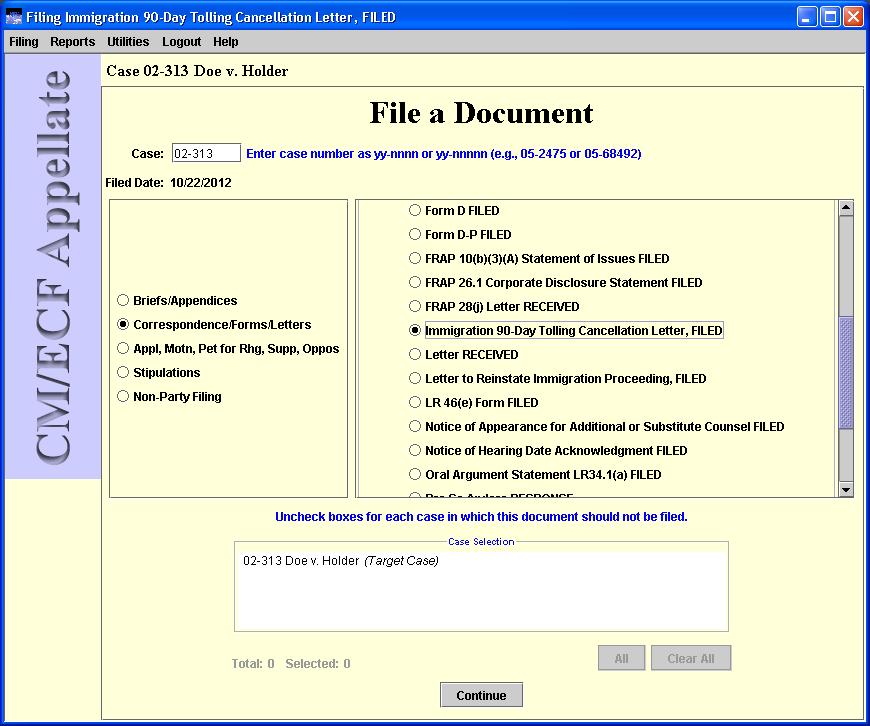 At the bottom of the screen, click the Continue button.
The screen that opens is divided into three sections from top to bottom: Party Filer, PDF Document, and Service.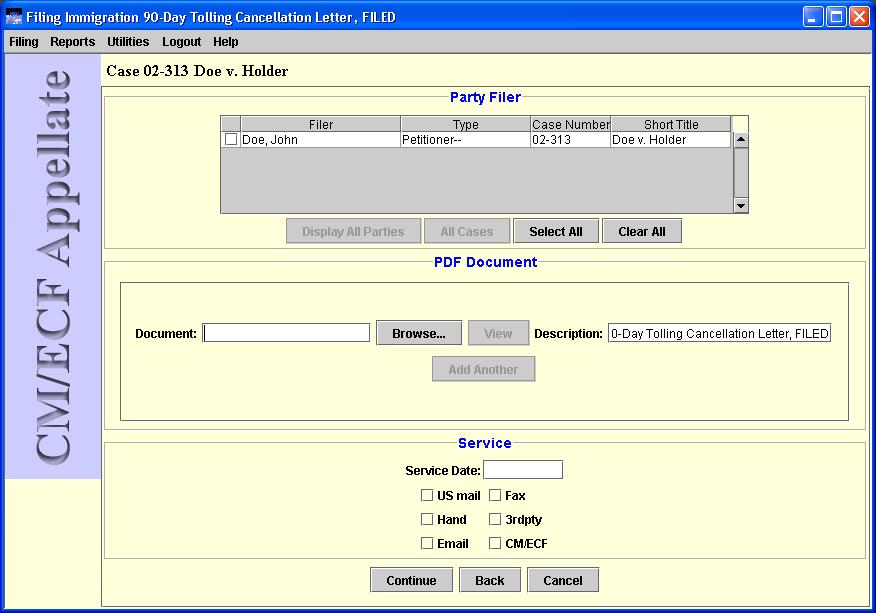 5. In the Party Filer section at the top of the screen, click the box to the left of the filer on whose behalf the letter is filed.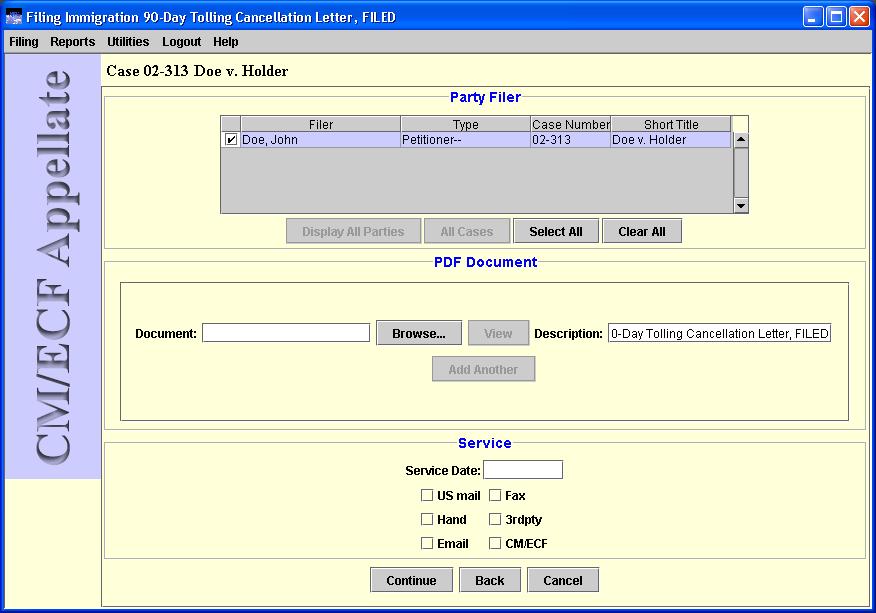 6. Use the PDF Document section in the middle of the screen to upload the letter. The system automatically fills in the Description box with the selection made on the previous screen. Click the Browse button to the right of the Document box to navigate to the letter saved on the filer's computer.
A dialog box titled Select PDF Document opens. Highlight the letter. The highlighted file name appears in the File Name field.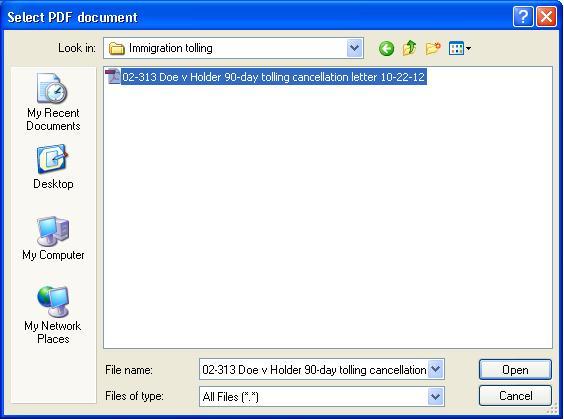 Click the Open button.
The docketing screen reopens. The name of the uploaded letter now appears in the Document box in the PDF Document section of the screen.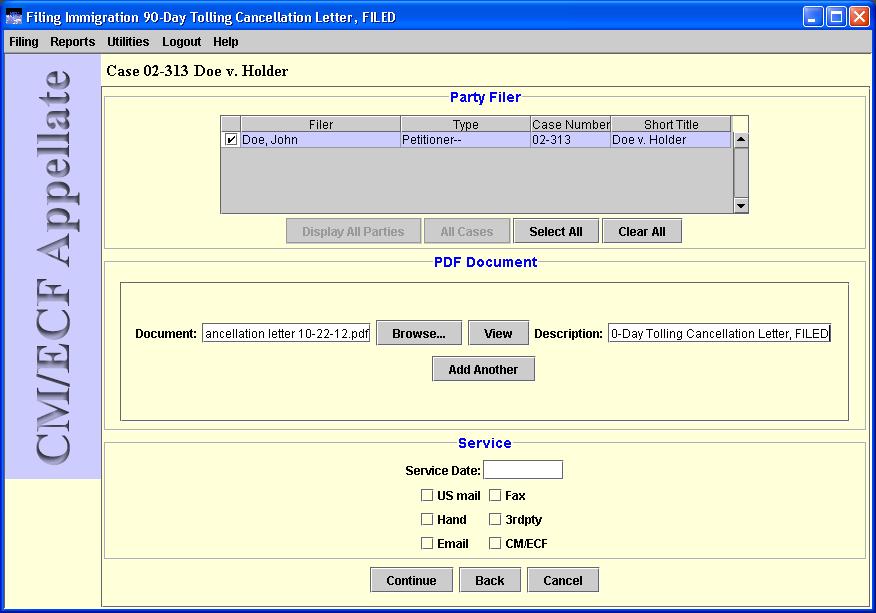 The View button now is active. Clicking the View button allows a filer to verify that the correct document is uploaded. To attach an additional document, click the Add Another button to upload.
7. In the Service section at the bottom of the screen, enter the service date (today's date or earlier date on which service is made) in MM/DD/YYYY format in the Service Date box.
Click the box(es) corresponding to the type of service employed.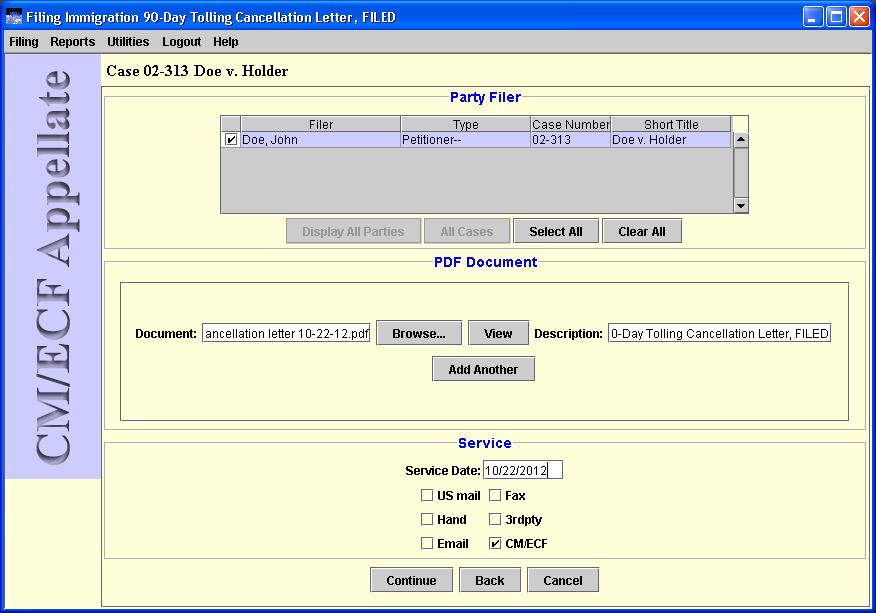 When the party filer is selected, the letter uploaded, and the service information entered, click the Continue button.
8. A dialog box showing the text of the docket entry opens.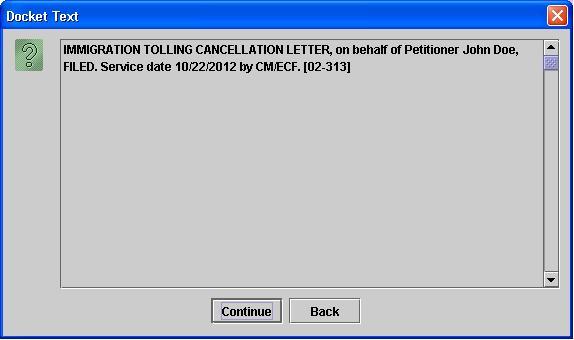 Click the Continue button to proceed. Otherwise, click the Back button to return to the previous screen to edit any incorrect information.
The Event Review dialog box opens to offer a final opportunity to edit the information that appears in the docket entry. To complete the transaction, click the Submit button.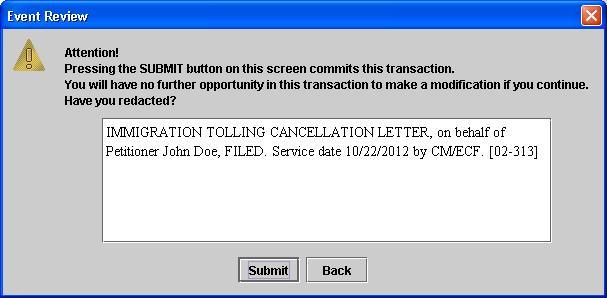 A pop-up box opens to verify that the transaction is completed.

Click the OK button.
9. The docketing screen reopens, and the Notice of Docket Activity (NDA) - identical to the email sent to opposing counsel - simultaneously opens in a browser.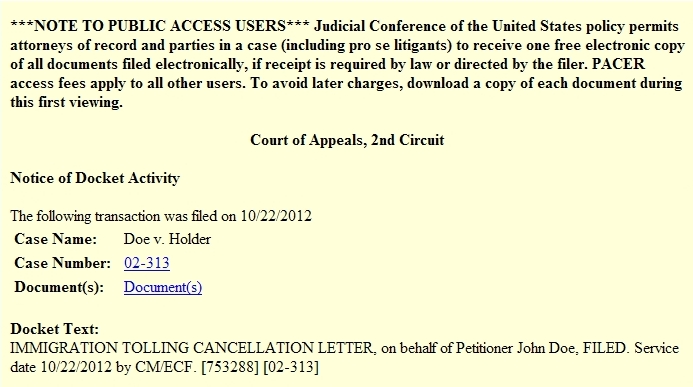 To close the browser, click the red X in the upper right-hand corner. Continue working in CM/ECF or log out of the system.
Last modified at 10/25/2012